Setting Up Postfixadmin
Postfixadmin provides a web interface to set up virtual domains, mailboxes and provides delegated admin.  All the MySQL tables, configuration of Postfix and Dovecot allows Postfixadmin to work with little or no configuration.
[This needs work]
Download the debian package for postfixadmin the one found at this point in time is postfixadmin_2.3.5-1_all.deb . To install issue the following command :
dpkg -i postfixadmin_2.3.5-1_all.deb
[I ran into problems here will need to do this again to understand how I resolved this]
To configure postfix admin, you will need to go to the following url on your local mail server : http://[ipaddess]/postfixadmin/setup.php .  This will run a setup and inform you of anything that needs attention.  At the bottom of this page it will show the following :

Choose a complex password, and click generate password which should be used to set subsequent .  This will generate a password hash line as follows that should be placed into the /etc/postfixadmin/config.inc.php file as follows :
// In order to setup Postfixadmin, you MUST specify a hashed password here.
// To create the hash, visit setup.php in a browser and type a password into the field,
// on submission it will be echoed out to you as a hashed value.
$CONF['setup_password'] = '13a83641cc7369c6bb385b8c0897bb71:2fb691385c74438dc4475f37096bde9388ec561a';
Back to the browser and the following will be shown :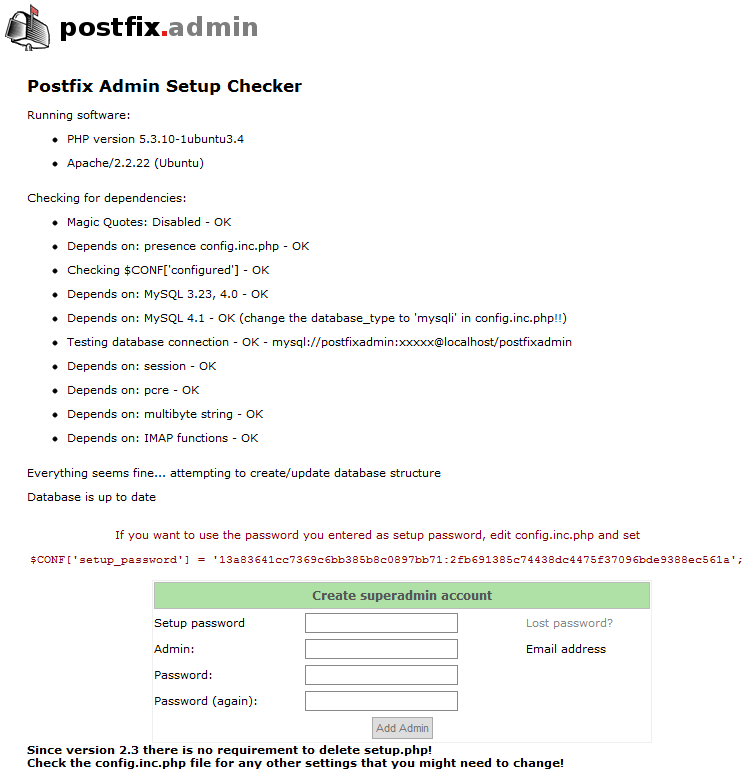 As shown above a SuperAdmin account is needed to proceed, enter the setup password you generated earlier, this is the one that was placed into the config.inc.php file.  This will allow you to generate an Admin id, choose something that is of the email address found in the System Email domain e.g. your.name@myhosting.co.uk.  Once this has been done logon with this superadmin account and setup the relevant email boxes, and virtual domains.
Looking into the /etc/postfixadmin/config.inc.php are a host of other options including quotas etc.
This concludes the configuration for postfixadmin.  You should have a system that allows users to pop3, or imap their email, allow them to send emails via SMTP and StartTLS using there pop3 or imap credentials.